Hello Friends!
We hope you are staying well, staying safe and staying creative! We have some news to share with you today about our In-Store Services...
The Little Blue House - Brick & Mortar Location will be Reopening this Friday and Saturday with Limited Hours.
Friday June 5th 10:00am - 3:00pm
Saturday June 6th 10:00am - 3:00pm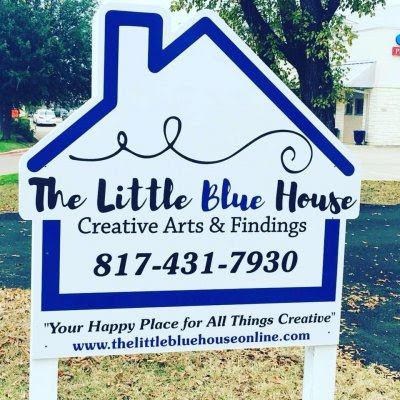 New LBH Shopping Guidelines & Store Structure:
We are allowing 8 customers in the store at one time.
We are following the 6ft social distance policy for all individuals in the store.
We are Encouraging anyone 65 or older, especially those with any health issues, illnesses or anyone that has been in contact with a current case of Covid 19 to order online or over the phone and to utilize curbside pick up or shipping services.
We are Encouraging everyone to wear a mask or face covering inside the store. Our Staff will have masks on.
We are Encouraging everyone to clean their hands before touching items in the store. We have 2 hand washing stations and 1 sanitizer station for customer use.
We are Encouraging everyone to only touch items that they plan to purchase.
We are Keeping Curbside Pick- up available to all customers --- orders must be paid for in advance.

We will be disinfecting all Register Surfaces after each Customer. We will be disinfecting Areas of the Store frequently through out shopping hours.

We will have Signs posted through out the store to help remind you of the guidelines.
The Little Blue House "In Store" Teaching Studio will remain Closed. We will not be hosting "In Store" Classes or Workshops at this time.

---
Blue House Reward Card Changes:
Due to the changes in our business, we are discontinuing our reward card program.
Blue House Rewards Cards can still be redeemed but we will NOT be issuing New Cards. We will keep stamping your remaining cards and redeeming filled cards.
---

We are scheduling our Public Shopping Hours
week by week. We will keep you updated in our Newsletters and on our Facebook page.
We have expanded the LBH Online Presence with
Online Workshops and Project Kits,
Online Membership Groups and Online Shopping!
www.thelittlebluehouseonline.com


We appreciate your support of our small business and your understanding of the operational changes with our business right now. Thank You!!

Stay True to your Passion & Keep Creating
Miss Tracy